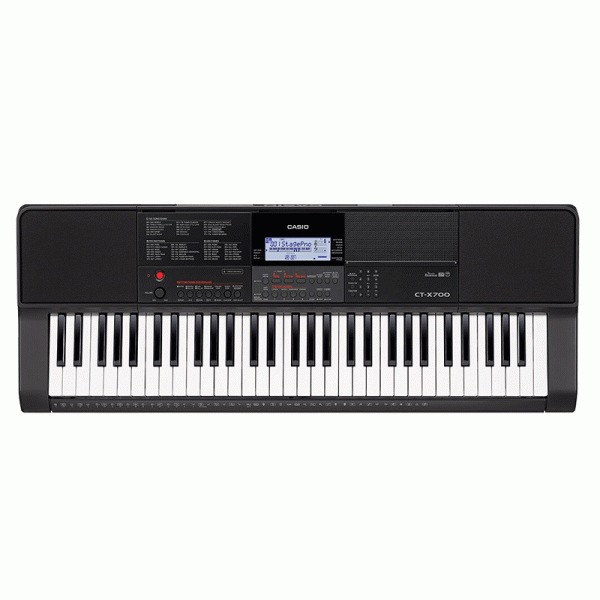 KLAVIJATURA CASIO CTX700
499.00 KM
Nova klavijatura CASIO  CT-X700.
Casio 61-Key Portable Keyboard CTX700
Casio CT-X-700 sintesajzer. CTX700 klavijatura idealan je izbor za one koji tek ulaze u svijet muzike, ali i one koji već imaju predznanje, a traže klavijaturu koja ima dobar zvuk, razne mogućnosti, te da je praktična. Ono po čemu se izdvaja Casio CTX 700 sintesajzer jest AiX Sound Source tehnologija, pa akustični instrumeti zvuče prirodno i moćno. Casio CT-X700 moguće je napajati baterijama, pa je klavijatura još praktičnija. NAPOMENA: Baterije se ne isporučuju uz proizvod! Još jedna važna karakkteristika Casio CTX700 sintesajzera je USB-MIDI konektor, pa istu lako spojite na PC, Android ili iOS uređaje. Zajedno sa Casio CTX700 klavijaturom dolazi i stalak za tekstove, koji je dizajniran tako da drži i tablet što je izvrsna stvar.
U cijenu je uključen strujni adapter!
Opis
Širina: 94.8 cm
Visina: 10.9 cm
Dubina: 35.0 cm
Težina: 4.3 kg
Bring In The Band
With hundreds of built-in Rhythms, you'll always have a band ready to jam. The variety of Rhythms spans the globe as well as the history of popular music. You'll find old favorites and chart-topping hits, all played with incredibly realistic instruments that sound better than ever. The drum kits come alive with authentic acoustic drums, vintage drum machine sounds, and a huge collection of percussion instruments and sound effects.
Built in song and Lesson System
Quickly capture your inspiration with the six-track recorder, or enjoy the library of 100 built-in Songs. Use the Step-Up Lesson system, to easily learn the Songs, with the display showing proper fingering and notation.
Connect and Create
The CT-X700's class-compliant USB-MIDI port connects to any Mac, PC, Android or iOS device with no drivers or installation needed. The included music rest is designed to support tablets, and there's even a built-in smartphone shelf to hold your device as you use the CT-X700 with your favorite music apps.
Sound Great Anytime, Anywhere
The CT-X700 is compact and lightweight, with a tough molded plastic case. and its optional battery power makes it perfect as a go-anywhere musical partner.
Možda će vam se također svidjeti…
PIANINO YAMAHA P45B (STAGE PIANO)

Uživajte u zvuku pravog klavira bilo gdje da se nađete. Lagan i kompaktan te vrlo jednostavan za upotrebu. U cijenu je uključen stalak za note, adapter AC/DC i sustain pedala. Isporučuje se bez stalka.

979.00

KM