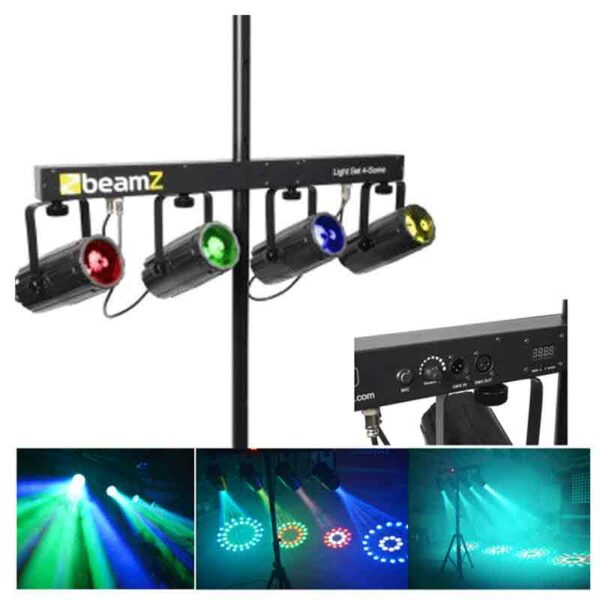 LIGHTING SET 4-Some Light BeamZ, 153.739
590.00 KM
Lighting set sa 4 LED moonflowera.
Opis
This 4-Some LED light effect set contains 4 LED Moonflower units and is easy to install due to the included T-bar. The 4 units can be positioned separately and are controlled by 7 DMX channels to create beautiful light shows. Every unit has 57 RGBW LEDs for high light output and is able to project beautiful figures. For easy use the units can also work with built-in automatic programs or they can be sound controlled. Even a master/slave setting is possible making all units do exactly the same. The T-bar fits onto every 35mm stand which makes this 4-Some light effect set your perfect choice for on the road applications.
Flash rate per second 0 – 20LED
Consumption 50W
DMX channels 7
No. of LEDs 228 LEDs total (per unit: 12x red, 18x green, 18x blue and 9x white)
Power supply 220-240Vac / 50Hz
Dimensions 840 x 108 x 315mm
Weight 4.85kg
Details
A kit of 4 FlatPARs on a T-bar with 186 super bright 10mm RGBW LEDs each. The fixtures offer a magnitude of static colours and blend them to create stunning effects. Features a.o. sound and strobe mode, colourfading in/out mode, electronic dimming, variable speed function etc. or create your own looks using the 7-channel DMX mode. The infrared remote control simplifies operation and eliminates the bother of programming.
4x 186x RGBW LEDs
DMX and Stand-alone mode
7 DMX channels
Master/slave function
Sound activated with adjustable sensitivity
Auto mode with adjustable speed
Pre programmed shows
DMX in/output via 3-pin XLR
IEC-connector input/output
Control panel with LED display
IR remote control
Complete with bag
Stand not included (180.620)
Možda će vam se također svidjeti…